About Our Founder David N. Bell
Columbia Manufacturing was founded out of David Bell's passion for aerospace manufacturing and his connections within the industry.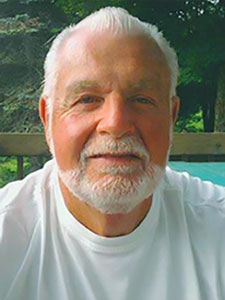 A native of Manchester, Conn., he began a lifelong career in aerospace at Pratt & Whitney in 1956 as a machinist apprentice. He was a quick study with an entrepreneurial spirit that led him to pursue opportunities in Florida. He left P&W after ten years to join an aerospace machine shop and quickly rose to become a partner in the business. It was sold in 1978, and Mr. Bell returned to Connecticut to retire in the quiet town of Columbia.
He fondly remembered times spent with his family on Columbia Lake, and as a result, purchased 110 acres to start a farm with horses and cows. However, retirement was shortlived when he saw an opportunity in the growing field of aerospace manufacturing. At the age of 40, Mr. Bell decided to open another machine shop in the current location on Route 66.
Mr. Bell knew the aerospace industry well and still had many contacts at different companies that helped him to grow the business rapidly. As an entrepreneur, he was very resourceful, often purchasing equipment from auctions and used machinery warehouses, and frequently repaired or maintained equipment on his own. He even bought used inserts and sharpened them himself.
As a family business owner, Mr. Bell was proud that many of his children and grandchildren would eventually have roles within our Company. He also took pride in providing employment opportunities to people within the local community regardless of their background, often training the less experienced in machining or other manufacturing skills.
Throughout its history, Mr. Bell maintained a vision to grow CMI by diversifying the customer base. His passion and drive led our Company to invest in two physical plant expansions making up the 90,000 square foot facility that exists today.
Present Leadership
Upon Mr. Bell's death in 2011, ownership of our Company passed to his daughter, Kimberly Bell. She led CMI in a variety of roles through 2017 and was instrumental in modernizing the facility and manufacturing equipment. When it was time for new leadership, Kimberly sought an entrepreneur to generate new ideas and drive further growth.
Robert Friedland, the former CEO of Proton OnSite, was named President and CEO in 2018. Over the past two years, he guided CMI to record the best year of new order bookings in its history.
Then early this year, the COVID-19 pandemic struck. The first quarter of 2020 presented the world with far-reaching challenges. The aviation industry has been significantly impacted, and the manufacturing supply chain has been greatly disrupted. As a result, CMI has seen about a 10% drop in sales from 2019 levels.
From the beginning of the pandemic, CMI put the health and safety of employees first. To date, our Company has been fortunate not to have significant impacts to our employee base. "We remain steadfast in our commitment to the aerospace industry," said Friedland. "We believe that this situation is only temporary, and we are confident that we will return to pre-pandemic levels soon."